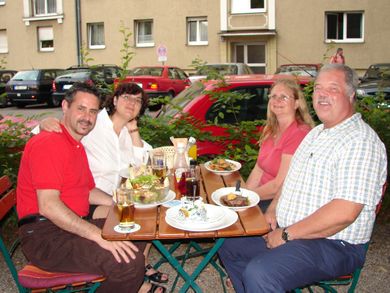 Ben and I both grew up and went to school in DuBois, PA, graduating from DAHS in the mid 1970's.  I attended Clarion University and majored in German and French Secondary Education.  After teaching German and French in St. Marys for three years, and French at the DuBois Campus of Penn State, I came to Clearfield and taught from 1988 until I retired in June, 2018. 
After graduating from DAHS, Ben and his brother owned and operated S&S Cycle Shop in DuBois for several years.  Ben drove delivery truck for Riverside and Yellow Freight for a few years before going into business with his father and becoming co-owner of Simpson Communications.  After retiring from the telephone business, Ben drove school bus in the DuBois school district for several years.  We were co-teachers of a high school Sunday School class and Youth Group at Bethany Covenant Church in DuBois for several years.  We were both active in Cub Scout Pack 23 and Boy Scout Troop 28 while our sons were in school.  Ben is an Eagle Scout himself.
We have lived in Rockton all of our married lives, and have two  adult sons, Paul and Karl, and five granddaughters and one grandson.  Besides traveling, we both love to read and take walks together with our Black Lab mix, Nico.  My passions are gardening and photography (visit my other website at simpsonstudios.jimdo.com).  Ben enjoys building projects and working with his backhoe, and reading, when he can find the time.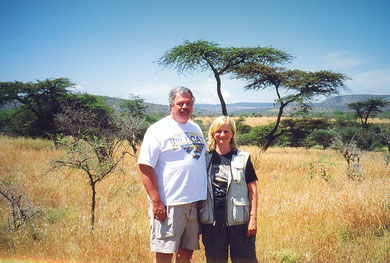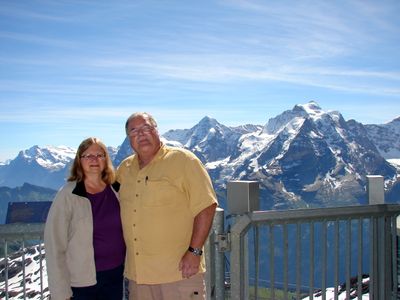 On top of the Schilthorn Mountain in the Swiss Alps, 2015 Tour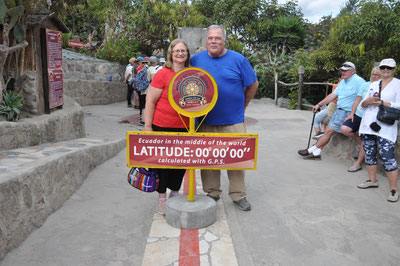 Standing on both sides of the equator in Ecuador, 2017