Past Student Tours
June 2016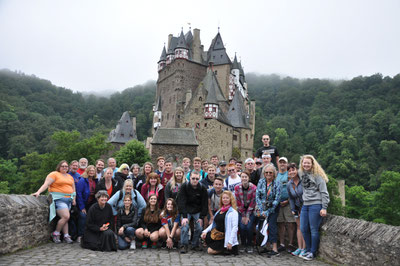 Our 2016 trip began in Frankfurt, then followed the Rhein River through Mainz, Bacharach, Bernkastel-Kues, St. Goar, and Koblenz.  In Germany, we saw the Gutenberg Museum, Castle Rheinfels, Castle Eltz on the Mosel River, and Trier.  In Luxembourg we visited a WWII Military Museum in Diekirch, then the American WWII Cemetery in Hamm.  Then we crossed the Rhein into Strasbourg, France and visited the Notre Dame Cathedral and Little Paris.  Our tour ended in Interlaken, Switzerland, with a cable car ride up to the top of the Schilthorn Mountain, a hike back down, climbs to the foot of several majestic waterfalls, and zip-lining at the Seilpark Ropes Course.  This was our last student tour after three decades of student trips.
June 2013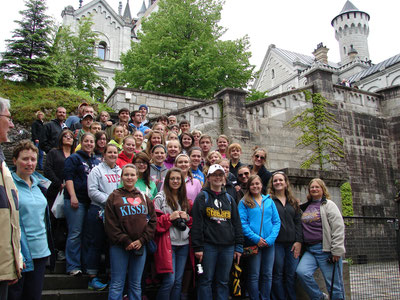 Our 2013 Trip began in Berlin, the same day that President Obama was there.  We saw the Brandenburg Gate, remains of the Berlin Wall, and visited the Checkpoint Charlie Museum.  From Berlin we traveled to Weimar and visited the Wartburg Castle, where Martin Luther translated the Bible into German.  Next we visted Buchenwald Concentration Camp, the first of such camps built in Germany. 
Other stops included Rothenburg, Castle Neuschwanstein, then on to Lucern Switzerland.  We took the cog railway to the top of Mt. Pilatus, then returned by cable car.  Partway down the mountain we enjoyed Switzerland's longest alpine luge ride.
Total student cost of this trip was $3,076.  Adult cost was $3,441.
June 2010 Student trip to Germany, Austria and Switzerland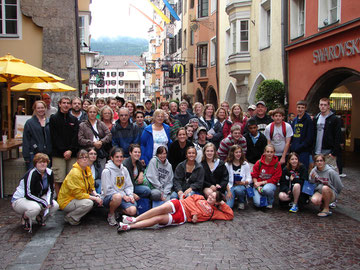 During this 9-day tour a group of 39 students and 29 adults visited Switzerland, Austria and Germany, with a brief stop in Liechtenstein. 
We started in Switzerland, with visits to Geneva, Bern, Interlaken and the Chateau de Chillon. In Austria we spent time in Innsbruck and Salzburg, including a tour of the nearby Salt Mine in Berchtesgaden.  We toured King Ludwig's Castle Herrenchiemsee, the BMW Visitor's Center and Olympic Park in Munich, and Dachau Concentration Camp.
When asked what the best part of the tour was, recent CHS graduate Kylie Knepp replied:  "Experiencing the German culture and finally being able to use all the German we learned over the past years was spectacular.  It was an experience I will definitely never forget."
Total student price was $2,641
June 2007Student tour of Germany, Austria, and Switzerland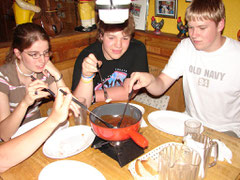 33 students from CHS and other schools, and 13 adults enjoyed a wonderful Alpine experience in Switzerland before heading to Austria and Germany.  Near Interlaken, we traveled by cable car to the top of the Schilthorn Mountain, 9750 feet high.  Students were treated to a visit into a real glacier in Gletsch.  We also spent time in the Austrian Alps in Innsbruck before heading north into Germany.  There we visited Oberammergau, home  of the Passion Play, and King Ludwig's Castle Neuschwanstein.  Our tour ended in Munich, with visits to the Marienplatz, Olympic Park and Pool, and Dachau Concentration Camp.
R. Kilmer, high school student from DuBois, said "This trip to Europe was simply amazing.  We saw so many wonderful things, such as the Alps, a medieval castle, waterfalls, gorgeous views of the countryside, and so much more.  Getting the chance to talk with people from other countries and learning things from them was an amazing experience that I wouldn't change for anything."
Total student price for this tour was $2,351